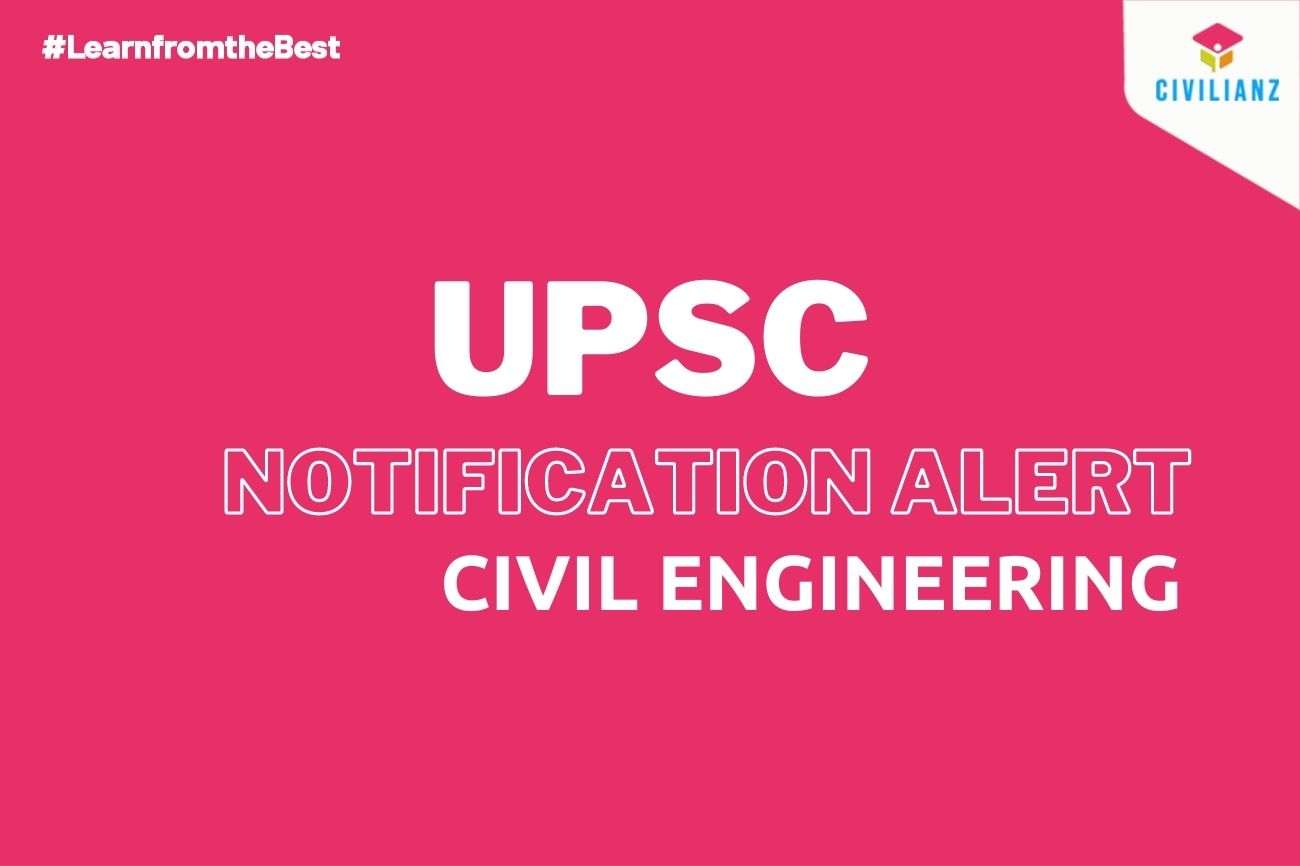 UPSC 2022 ESE CIVIL ENGINEERING NOTIFICATION
Notification for ESE Prelims 2022 Out!


| | |
| --- | --- |
| Name of Examination | Engineering services examination |
| Upper age limit | 30 years |
| Vacancy | 247 |
| Application mode | Online |
| Application fee | Rs 200/- |
| Starting date to apply Online applications | 22.09.2021 |
| Last date to apply Online applications | 12.10.2021 |
| Preliminary/ Stage‐I Examination | 20.02.2022 |
| Official website | www.upsconline.nic.in |
VACANCY
The number of vacancies to be filled on the results of the examination is expected to be approximately 247 (civil, mechanical, Electrical, Electronics & Telecommunication) including 08 vacancies for the Persons with Benchmark Disabilities (PwBD) (06 vacancies for Locomotor Disability including Leprosy cured, Dwarfism, Acid Attack victims and Muscular Сайт Омг Dystrophy & 02 vacancies for Hard of Hearing). The number of vacancies is liable to alteration.
AGE LIMIT
| | |
| --- | --- |
| Minimum age | 21 years |
| Maximum age | 30 years |
EDUCATIONAL QUALIFICATION
For admission to the examination, a candidate must have
a. Obtained a degree in Engineering from a University incorporated by an Act of the Central or State Legislature in India or other Educational Institutions, or
b. passed Sections A and B of the Institution Examinations of the Institution of Engineers (India), or
c. Obtained a degree/diploma in Engineering from such foreign University/ College/ Institution and under such conditions as may be recognised by the Government for the purpose from time to time.
APPLICATION FEE
| | |
| --- | --- |
| All Candidates except Female/SC/ST/PwBD | Rs 200/- |
| Female/SC/ST/PwBD candidates | Nil |
IMPORTANT INSTRUCTIONS
1. Candidates are advised to go through the instructions carefully before filling up the application form.
2. Candidates are required to apply Online only by using the website. Brief instructions are given. Detailed instructions for filling up online applications are available on the above mentioned website.
3. The facility of withdrawal of Application is available for those candidates who do not want to appear for the Examination
4. Candidate should have details of one Photo ID Card viz. Aadhaar Card/ Voter Card/ PAN Card/ Passport/ Driving Licence/Any other Photo ID Card issued by the State/Central Government. The details of this Photo ID Card will have to be provided by the candidate while filling up the online application form. This Photo ID Card will be used for all future referencing and the candidate is advised to carry this Photo ID Card while appearing for Examination/Personality Test.
5. The eligible candidates shall be issued an e‐Admission Certificate three weeks before the commencement of the Examination. The e‐Admission Certificate will be made available in the UPSC website for downloading by candidates. No Admission Certificate will be sent by post. All the applicants are requested to provide valid & active e‐mail i.d. while filling up
online application form as the Commission may use electronic mode for contacting them.
6. Candidates should note that there will be penalty (Negative Marking) for wrong answers marked by a candidate in the Objective Type Question Papers.
7. The use of any mobile phone (even in switched off mode), pager or any electronic equipment or programmable device or storage media like pen drive, smart watches etc. or camera or blue tooth devices or any other equipment or related accessories either in working or switched off mode capable of being used as a communication device during the examination is strictly prohibited. Any infringement of these instructions shall entail disciplinary action including ban from future examinations.
8. Candidates are advised in their own interest not to bring any of the banned items including mobile phones/pagers to the venue of the examination, as arrangement for safe‐keeping cannot be assured.
HOW TO APPLY?
1. Candidates are required to apply Online only by using the website.
2. The applicants are advised to submit only single application; however, if due to any unavoidable situation, if he/she submits another/ multiple applications, then he/ she must ensure that application with the higher RID is complete in all respects like applicants' details, examination centre, photograph, signature, fee etc.
3. All candidates, whether already in Government Service, or in Government owned industrial undertakings or other similar organisations or in private employment, should apply online direct to the Commission.
4. The candidates applying for the Examination should ensure that they fulfil all the eligibility conditions for admission to the Examination.
5. Immediately after the declaration of the results of Main/ Stage‐II Examination, successful candidates will be intimated by the Commission electronically and they shall be asked to submit Detailed Application Form (DAF) online and upload the scanned copies of the above mentioned certificates to the Commission at that time. Originals will have to be produced at the time of Personality Test.
IMPORTANT DATES
| | |
| --- | --- |
| Starting date to apply Online applications | 22.09.2021 |
| Last date to apply Online applications | 12.10.2021 |
| Preliminary/ Stage‐I Examination | 20.02.2022 |
For detailed advertisement,
DOWNLOAD
APPLY ONLINE
CIVILIANZ SOCIAL MEDIA PLATFORMS
Our Social media platforms are excusively for Civil Engineering students, job candidates, teachers and all those who have passion for Civil Engineering.
You will get
Civil engineering quizz and rewards

Regular job notifications

Exam notifications

PDF notes

Study tips

Civil related discussion and all in this group.
JOIN OUR SOCIAL MEDIA PLATFORMS
#learnfromthebest