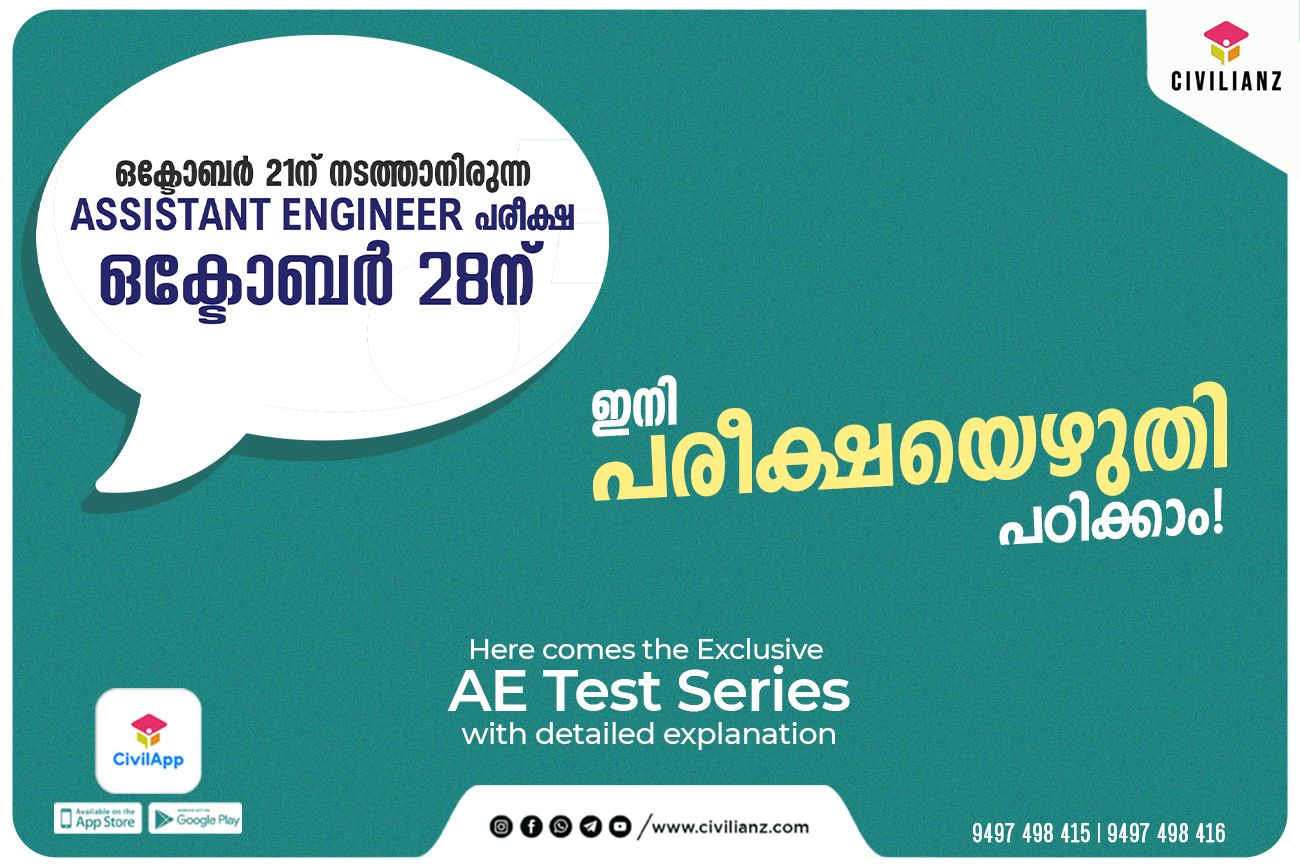 REVISED KERALA PSC EXAM DATES FOR AE on 28.10.2021
Upcomming Kerala PSC Civil Engineering Exams 
KERALA PUBLIC SERVICE COMMISSION EXAMINATION REVISED PROGRAMME FOR THE
MONTH OF OCTOBER 2021 
S.no
Date
Posts
Category Number

1

28/10/2021

ASSISTANT ENGINEER / HEAD DRAFTSMAN / ASSISTANT DIRECTOR (CIVIL) IRRIGATION (SR FOR ST ONLY)

210/2019

2

28/10/2021

ASSISTANT ENGINEER (CIVIL) LOCAL SELF GOVERNMENT DEPARTMENT (PART I -Direct Recruitment)

125/2020

3

28/10/2021

ASSISTANT ENGINEER (CIVIL)




LOCAL SELF GOVERNMENT DEPARTMENT (PART II – Departmental Quota)

126/2020

4

28/10/2021

INSTRUCTOR GRADE I (CIVIL) TECHNICAL EDUCATION (ENGINEERING COLLEGES)

191/2020

5

28/10/2021

ASSISTANT ENGINEER (CIVIL)




KERALA STATE ELECTRICITY BOARD LTD

005/2021

6

28/10/2021

ENGINEERING ASSISTANT GRADE I




KERALA STATE CONSTRUCTION CORPORATION LTD. (SR from among SC/ST & ST only)

028/2021

7

28/10/2021

ASSISTANT ENGINEER (CIVIL)




KERALA STATE HOUSING BOARD

128/2021

8

28/10/2021

ASSISTANT ENGINEER (CIVIL)




KERALA TOURISM DEVELOPMENT




CORPORATION LTD

134/2021

9

28/10/2021

ASSISTANT ENGINEER (CIVIL) UNIVERSITIES IN KERALA

206/2021
Assistant Engineer Exam for Habour Engineering Department is deleted.
Candidates who successfully submitted their confirmation on or before 11.08.2021 can download the old Admission Tickets through their One Time Registration Profile which was available from 07.10.2021
REVISED KERALA PSC EXAM DATES FOR AE EXAMS . 
Special Information
While submitting confirmation for the confirmation required posts of this examination programme, candidates can select the District of their Communication Address as choice of their examination centre. For the same, changes can be made in Communication Address if necessary and
special attention to be taken to submit confirmation only after making necessary changes in their Communication Address in the Profile.
For detailed exam calendar,
For postponed dates Exam calender,
REVISED KERALA PSC EXAM DATES FOR AE EXAMS
🎓 CIVILIANZ
🔥Again introducing our best in class Assistant Engineer Standard Bundle🔥
Join now for deftly cracking upcoming Assistant Engineer exams with Kerala's No 1 PSC coaching centre.
Streamed directly from the studio of Civilianz, bringing you the best classes at your fingertips!
Highlights
▶️Daily Live Interactive Sessions
▶️Classes by Best faculty team
▶️Intensive study plan
▶️Unlimited streaming of recorded sessions within the course period
▶️Comprehensive coverage of kerala psc civil AE and overseer syllabus
▶️Highly trained and dedicated faculty team in Kerala
▶️Free Assistant Engineer Test series
▶️Daily Assessment tests
▶️Handwritten notes as E-book
▶️Onboard support and doubt clearance from the faculty
▶️Result oriented study circle
▶️Shortcut memory tips
▶️Guidance from rank holders
And here is another bonus you are getting the recorded version of our latest OVERSEER COURSE + Mechanical Engg portions absolutely Free of cost
Course duration – 1 year
We often say learn from the best. We mean it and we prove it, its upto you to choose wisely
Call us for details:
📲 9497498415
📲 9383450415
#learnfromthebest

REVISED KERALA PSC EXAM DATES FOR AE EXAMS